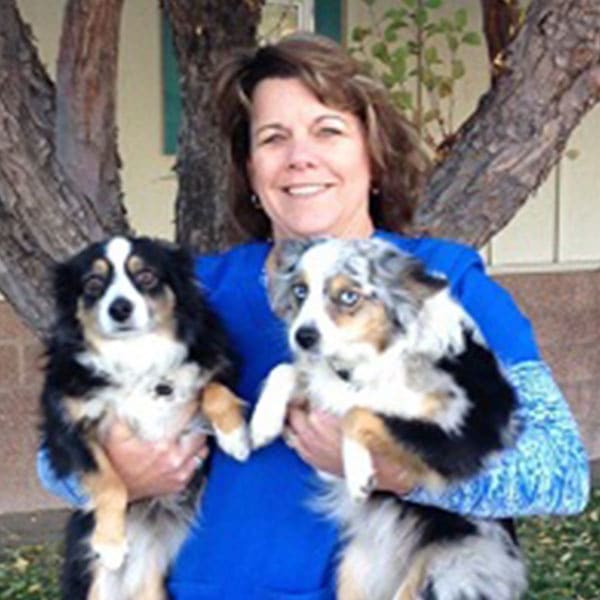 Amy has always loved animals, but it was in school where she discovered that she enjoyed learning about medicine and taking care of all kinds of animals. Originally from Chicago, IL, she and her family moved to California. She remembers that in her senior year of high school one of her rabbits was attacked by a neighbor's dog. She brought her bunny to a local veterinarian, and that experience sparked the beginning of her career in the veterinary field.

Amy attended Hartnell College in Salinas, CA where she received her certification as a veterinary technician. Amy has worked in five veterinary clinics in her career. She worked in Northern and Central California at an Emergency Clinic, and also at a Specialty Clinic in Santa Cruz, CA which had a staff filled with boarded veterinarians in every discipline. Amy started working for Cinder Rock on a part-time basis in November of 2001 when she moved to Central Oregon. After a year, she became a full time member of our Cinder Rock family. Amy continues to enjoy learning about all aspects of veterinary medicine.
Amy has three boys: Robert, Steven, and David and she is proud of all three of them. Robert has his own home and is an avid hunter and fisherman. Steven is also a homeowner thanks to his success as a PRCA bareback rider. He has qualified to ride in the National Finals Rodeo all seven years of his career and was World Champion in 2015. David attended Western Texas College in Snyder, TX on a full Rodeo scholarship, and earned his certification in the welding program.

During her free time, Amy and her husband Greg love to ride their horses. Animals are very much a part of the household. There are two cats, five horses and four dogs: an English Setter, a Jack Russell Terrier and the two Mini Australian Shepherds in Amy's picture above. In addition, Amy adopted a Dachshund when it was brought into our office paralyzed from a back injury. She spent many hours and months rehabilitating the eager little dog who has now recovered completely. Amy was able to adopt her out to a retired couple who had lost their elderly Dachshund and all are very happy.