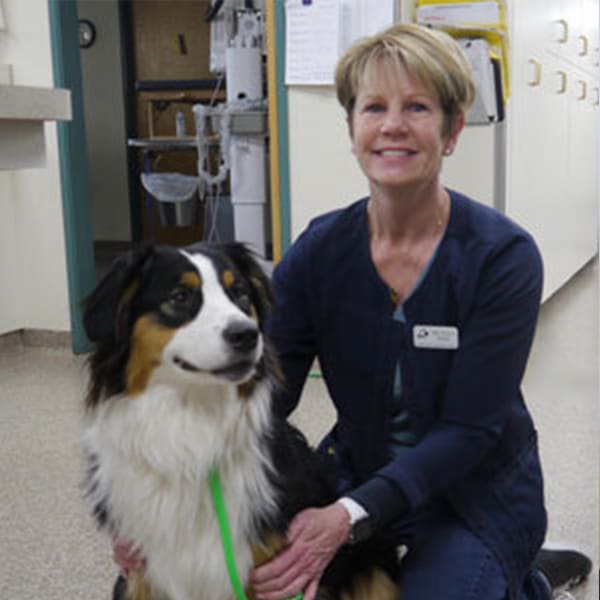 Dr. Holly Sides
Becoming a veterinarian was the only thing I ever wanted to do. My family always had pets, usually one dog and one cat until we moved from LA to Wichita, Kansas when I was 11, when we adopted 2 more dogs. I already knew I wanted to become a veterinarian long before I started high school, so I planned my life around that goal.
I volunteered at the county humane society after school and during the weekends. From there I applied for jobs at all the vet clinics in my area. My own pets' clinic hired me and then later, when a new clinic opened, I showed up on the doorstep on opening day. Dr. Williams couldn't afford to pay me much, but I didn't care. I worked for him for the next 4 years after school, weekends and during vacations. He was a wonderful vet and a great mentor. At that time, in the dark ages, there were very few female vets, but he never had an issue with my goal. He exposed me to all the positives and negatives so I would know what being a vet was really like.
My parents supported me throughout the whole process. When I was working at the humane society, I was only 15, and couldn't drive yet. My mother would take me there, 10 miles away, and pick me up an hour and a half later. No complaints. My one regret was that my father, who believed in my dreams, never saw them realized. He died during my senior year of vet school.
I went to Kansas State University for both undergrad and veterinary school. Both were excellent programs, and it was there that I met Keith and we ended up as lab partners in vet school. Pretty cliche, but very true. We drove to the west coast in our senior year to interview at clinics in Oregon, Washington and California. Keith took a job in Madras and I took a job with Susan Loomis at Deschutes Vet Clinic in Bend. Two years later Keith started Cinder Rock and I joined the practice after Ian was born in 1988.
Our daughter Kelli is a high school teacher and lives in Redmond with her husband Trevor, along with their two rescue dogs and cat. Ian lives and works in Seattle and hopes to return to Oregon soon. He has three kitties and a rescue dog.
We currently have a cat named Jethro and three dogs. Jazz is a Vizsla we rescued and our other Vizsla is named Mattie. We also have my Aussie named Quincey. I have been a lifelong Aussie person, and Quincey is my fourth of the breed. I sadly lost my beloved Riggs in the summer of 2016, to cancer. Quincey has turned out to be a smart, sweet and amazingly calm dog.
Keith and I both enjoy traveling. I love Broadway musicals in Portland, or New York, when possible. I try to fend off aging with a kettlebell based training program, along with spending time with our critters and family and friends. We live in an amazing area so we also enjoy just being in central Oregon.
Dr. Holly Sides is retired at this time, but continues to do relief work when needed.