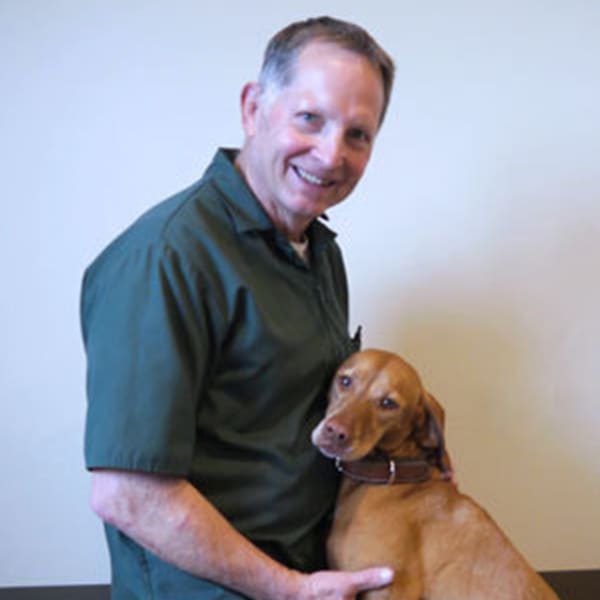 Dr. Keith Sides
Growing up in a very small town in northwest Kansas with all of my extended family living on farms, I do not remember a time without animals. When I was seven years old, my older brother and I rescued a small brown frightened and abandoned female puppy that was hiding under a slab of concrete at the local landfill. "Brownie" was my first loyal companion and friend that left a lifelong impression. Though I did not consider veterinary medicine as a career path until I was a senior in high school, I have to believe that Brownie planted the seed. 
Also influencing my career decision was our local veterinarian and family friend, Dr. George Atkinson, who was a 1943 graduate of Kansas State University. For me at the time, he was a friendly, kind old man who loved being a veterinarian in a James Herriot type practice. Little did I know how well respected, admired and influential he was in the state of Kansas. "Doc's" example continues to guide me today.
A wrestling scholarship put me at Kansas State University in 1974, but after my freshman year, my focus turned solely to veterinary medicine. Working summers as an undergraduate for a bridge construction company helped pay for college that started in earnest when I was accepted into the College of Veterinary Medicine in 1977.
On the first day of class I connected with a classmate – my future wife Holly. We both graduated in 1981 and through many quirks in fate ended up in Central Oregon. We opened Cinder Rock Veterinary Clinic in 1983 in Redmond, and it has been home ever since.
Our son Ian, and daughter Kelli both graduated from Redmond High School and have long since flown the coop.
The number of farm animals, horses, dogs, cats and pocket pets that have passed through since we opened our doors is mind boggling, as are the improvements in veterinary care over the years. And I am still as passionate about veterinary medicine as the day we opened those doors.
My hobbies and enjoyments include coaching wrestling, racquetball, running, backpacking, bird hunting, K-State sports, and spending time with family and friends.
There have been many "Brownies" that have touched my life over the years but my current animal family consists of two Vizslas: Jazz and Mattie, our Australian Shepherd, Quincey, and Jethro, an exceptionally cool feline.