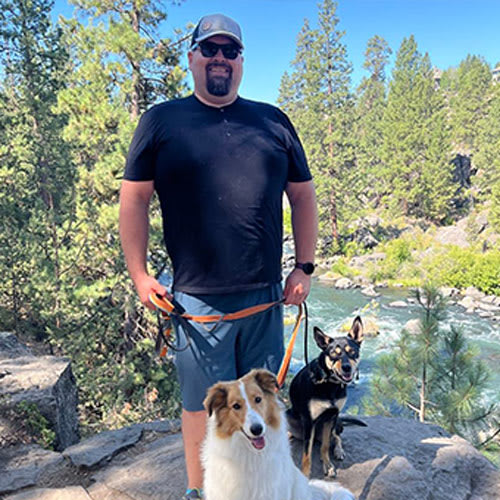 Ashton joined our team in June of 2023! He is originally from Denver, Colorado but moved to Redmond some time ago. While in college, Ashton studied nursing and EMT medicine at both Foothill and De Anza University.
He says that his love for medicine stems from his mother, who is a veterinary technician herself. He has a passion for exceptional practiced medicine and canine/feline behavior. He has extensive experience in the field, having been an emergency veterinary technician for 10 years. Prior to working with animals, he was an EMT for 3 years.
Ashton and his wife Andrea, have a full house of pets! They have three dogs and two cats: "Tess" a Scruffy Terrier, "Archer" an Australian Kelpie, "Ember" a Scotch Collie, "Clara" a Dilute Calico and "Tulip" a Calico as well. We also cannot forget their Betta fish "Mizuchi".
When Ashton is not at work, you can find him hiking, playing board games, and doing Search and Rescue with Archer! Ashton is a member of the local Search and Rescue group and has extensively trained Archer for this!